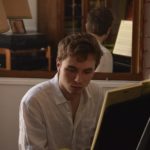 Nicolas QUEYROUX has just been admitted to the Paris Conservatorire. A student of Cécile HUGONARD-ROCHE of the Saint-Maur Conservatoire, Nicolas has been coached by Piano Cantabile since October 2020.
In the same competition, Paul LECOCQ, aged only 16, was also one of the ten pianists admitted to the Bachelor's course. Paul, who is also studying at the Saint-Maur Conservatoire with Christine FONLUPT, has just joined Piano Cantabile and has attended one course.
Etienne de SAINT-MAURICE has just won first prize at the International Chatou Competition (excellence level). In the same contest, Nils VERNAZOBRES, aged 15, was awarded 2nd prize by a unanimous jury. Both are currently studying at the Boulogne Conservatoire with Alexandre LORY, Pierre-Yves HODIQUE and Nicolas MALLARTE.